About: NULLf9e97304-bc8c-44e3-9bd9-980b1a919904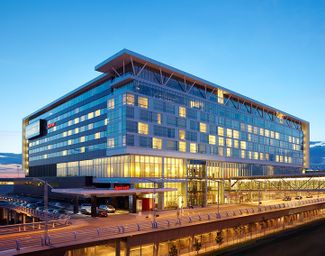 Altispa Marriott Terminal Aeroport de Montreal Montreal Airport Marriott InTerminal Hotel
800 place Leigh-Capreol, Dorval, H4Y 0A4
While we can't take the pain out of flying, the Marriott In-Terminal Montréal Airport , a leader among hotels near YUL airport, has the next best thing—Altispa. The hotel's new spa facility is the perfect way to unwind after a long flight, soothe sore muscles during a long layover or prepare your body for hours in an airplane seat.

Guests will find themselves in an instant state of relaxation in our warm, welcoming spa, where the focus is relaxation, pampering and nourishing our visitors. And because we are located inside the Montréal-Trudeau Airport, we're a convenient option for those on layovers, and offer a number of express services, including facials, pedicures and manicures.
For a comforting and relaxing treatment, the Body Massage with Hot Stones soothes and heals with warm volcanic rocks. Before deciding which facial on our menu is best for you, take advantage of our free SkinScope Analysis. Or, simply choose our AltiSpa Advanced Signature Facial, customized for your skin.

We also offer a number of spa packages, in addition to Montréal Airport Marriott packages. Those with layovers and limited time can opt for the Spa Express, which includes a signature facial and express manicure. Our Half Day package includes a signature facial, body wrap, pressotherapy and relaxing massage. For the ultimate pampering experience, the Full Day package will take you on a relaxing journey with a signature facial, body wrap, pressotherapy, therapeutic massage, spa pedicure and manicure, and a gourmet lunch.

To learn more about the Montréal Airport Marriott and AltiSpa, visit our hotel website at http://www.marriott.com/hotels/hotel-information/fitness-spa-services/yulma-Montréal -airport-marriott-hotel/, where you can find package deals, discover nearby attractions, and explore Bijou, our trendy West Island restaurant Montréal .

About the Montréal Marriott Airport Hotel

The Montréal Airport Marriott is not your typical airport accommodation. Located inside the Montréal-Trudeau Airport, right next to the U.S. departures terminal, our modern, stylish hotel is known for its legendary service and generous amenities. After a long flight, stretch out in the fitness centre, or soak jet-lagged muscles in the indoor pool. For the ultimate in personal pampering, book a treatment at our new Altispa, offering massages, facials and body treatments. You'll feel at home in our spacious guestrooms, where you'll wake up refreshed after a night watching movies on the 32-inch flatscreen TV and sleeping soundly in our signature Revive bedding. If you're on a deadline, settle into the generous desk space with ergonomic chair, connect with high-speed Internet access and order a delicious meal from 24-hour room service. Concierge-level rooms offer upgraded amenities and access to concierge lounge services. Our airport hotel is perfect for business meetings and events, with more than 14,000 sq ft of space, 21 fully equipped meeting rooms and expert planners to take care of the details. The Montréal Airport Marriott is convenient to world-class shopping and dining, and just 20 minutes from downtown Montréal and top attractions, including an amusement park, Notre-Dame Basilica and the Olympic Stadium and Botanical Gardens. After a day of exploration, meet up with friends for drinks or a lively meal at Bijou, our trendy restaurant and bar serving local specialties made with market-fresh ingredients.