About: NULLf0225efc-0a1f-4c3d-b1d1-5f3829d8e5de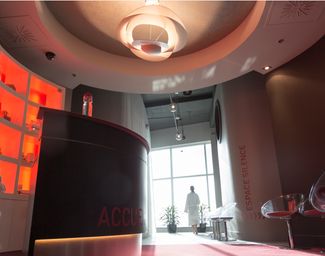 SKYSPA Quebec
2828 boul Laurier 17e etage, Quebec, G1V 0B9
Thermal therapy, massages and unique cares…just a few minutes from downtown Quebec     At SKYSPA, we use the healing powers of water and its various temperatures to promote an optimal sense of well-being and relaxation, all in stylish and calm surroundings.
Start your journey with our Thermal Experience where a repeated alternation of hot, cold and relaxation cycles is the basis for this therapeutic body and mind experience. Purifying, energizing and relaxing.  
Feel the benefits of this Thermal Experience throughout our high quality facilities : four season open-air  warm California whirlpools, Finnish sauna, aromatic steam baths, cold water basin and its Nordic waterfall.
To optimize your experience and take you on cloud 9, consult our massage menu, facial cares and body treatments.