About: NULLefdb8eae-6178-4eae-9d85-3b202edf358b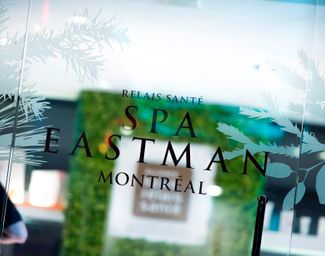 Spa Eastman Montreal
666 Sherbrooke St West 16th floor, Montreal, H3A 1E7
Montreal's Best Kept Secret ... for over 20 years. Spa Eastman Montreal is one of the first urban spas to set up shop in downtown Montreal. The professionalism of its team of highly trained and experienced therapists ensures a unique healing environment. Nestled between land and sky, on the16th floor of a skyscraper, Spa Eastman Montreal offers a breathtaking view of Mount Royal away from the hustle and bustle of downtown. From its panoramic lounge, it offers renewal in the heart of the action!
Enjoy the benefits of alternating hot and cold with our infrared sauna followed by our Igloo shower. Two separate areas, one for women and one for men, providing an intimate and inviting environment in which to extend the fun and relaxation with friends.

Thermotherapy is available as an add-on for periods of two hours, upon reservation, with any of our treatments. Access to the thermotherapy area is also included with our spa membership that comes with a large choice of services and treats on a monthly basis.