About: NULLdaf28785-adca-4521-8620-4bdb3a8b5294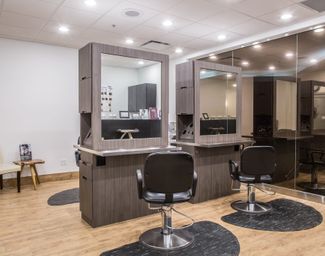 Element5 Spa & Salon
1 Market Square, Saint John, E2L 4Z6
about us
Why ELEMENT5 Spa and Salon in Market Square, Saint John? We are located in the heart of Uptown Saint John, right on the waterfront, in Historic Market Square.

Our owner, Tracey MacDonald and her Team, are passionate about the Health, Wellness and Beauty Industry and believe that every guest of Element5 Spa and Salon deserves a First Class experience!

When you visit ELEMENT5, all 5 senses will be engaged for a deeper guest experience. From the ELEMENT5 Aveda comforting tea & our Licensed Lounge Menu to our free personalized sensory rituals & signature spa treatments.

ELEMENT5 Spa Mission:

Our Mission at ELEMENT5 Spa is to offer our guests the finest spa experience that will balance and beautify mind, body & spirit with our professional, talented and continuously educated team. Every guest, every service, every day.

AVEDA Mission

Our mission at Aveda is to care for the world we live in, from the products we make to the ways in which we give back to society. At Aveda, we strive to set an example for environmental leadership and responsibility, not just in the world of beauty, but around the world.

Let us pamper you..... call 506.642.7725 or visit our website: element5spa.ca to book your appointment today!