About: NULLc3d32e98-8f67-43b0-a2ea-f2853c1b30b6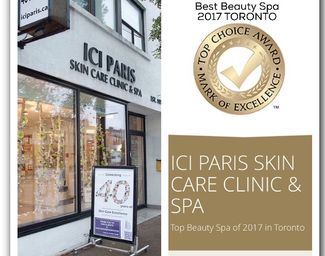 Ici Paris Skin Care Clinic & Spa
370 Danforth Avenue, Toronto, M4K 1N8
ICI PARIS - AT THE FOREFRONT OF SCIENTIFIC ADVANCES IN NATURAL SKIN CARE THERAPIES FOR OVER 41 YEARS. Established in 1976. Offering therapeutic facials, outstanding body therapies and a range of head-to-toe treatments and packages.

Ici Paris Skin Care Clinic & Spa is winner of Top Choice Award for Best Beauty Spa 2017 & 2018 in Toronto, Consumer's Choice Award for Best Spa/Day Spa in the GTA, and currently selected as one of the Top 25 Spas in Canada by Spa Industry Association of Canada (SIAC).

WHAT MAKES US DIFFERENT?

Highly educated, European-trained estheticians.
Holistic approach to solving challenging skin conditions.
Our commitment to achieving visible results.
Combination of herbal remedies with advanced technology.
Our signature treatments.    

* WaySpa Gift Certificates or cards can be used for regular priced menu services only (RMT services excluded). They cannot be used for products and already discounted spa services.