About: NULLc24e4031-912b-4a51-89c6-dac101398244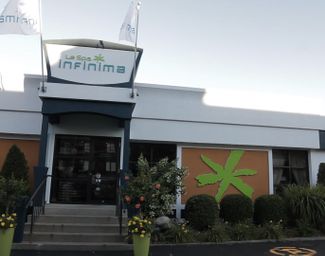 Le Spa Infinima
2972 chemin Sainte-Foy, Quebec, G1X 1P6
Certified "Spa of Excellence" by the AQS and "Quality Assurance" by Leading SPAS of Canada, Le Spa Infinima is located in the heart of Quebec City. Recipient of the prestigious New Green Day Spa Award in Canada, Best Urban Spa Concept in Quebec in 2009, and ranked as one of the Best SPAs in Canada since 2011, The Infinima Spa is a true haven of peace inspired décor Italian baths and the most beautiful Indian temples, where well-being and beauty are at the rendezvous.

Le Spa Infinima offers you under one roof: massage therapy, aesthetics, medico-aesthetics, body care, balneotherapy, manicure, pedicure, permanent hair removal services, laser technology and more. An exceptional experience awaits you at the Infinima Hammam for you to discover the benefits of thermotherapy (Nordic baths): Finnish Sauna, Steam Bath, cool or cold Rainfall Shower and large Therapeutic Bath surrounded by beautiful stonewalls. And since our Italian-styled facilities are fully indoor, they are open to you all year long.

Covering three floors, Le Spa Infinima has all the services in one place, and offers a uniquely customized service. Virtually every aspect is tailored to your taste: music choice, lighting color in treatment rooms—even massages are tailored according to your tastes and needs. Trust a team of certified and experienced professionals in the fields of massage therapy, aesthetics and medico-aesthetics. Established for several years, Le Spa Infinima invites you to experience the most distinctive spa in Quebec!