About: NULLb6854dfe-a244-4063-b919-86df3ba38d8a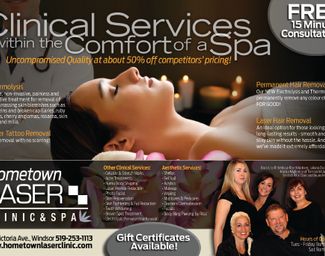 Hometown Laser Clinic and Spa
12127 Tecumseh Rd, Windsor, N8N 1M2
About Hometown Laser Clinic Spa

Hometown Laser Clinic & Spa welcomes its clients and we would like for them to experience a friendly and professional service! We want your skin to look perfect and we don't want you to spend a fortune like at other spas!

We offer unique state of the art facials such as Diamond Dermabrasion, Deep pore cleansing and thorough extraction and Peels. These phenomenal facials are geared to every skin type.

You would also enjoy a relaxing massage by one of our trained and skilled Aestheticians . These treatments will pamper your mind, body and soul. Book a personal pampering package and come in and enjoy our relaxing environment with customized service.

Hometown Laser Clinic & Spa specializes in progressive treatments and customized services, We will help you achieve that beautiful skin you've been longing for. Our facility is geared towards our clients.

The Spa only carries the finest products that are used in all treatments and also are recommended for home care regimen for the best care possible.

If you are looking for that special Spa Treatment let Hometown Laser Clinic & Spa offer you the best personal services and prices possible in the Windsor and surrounding area!!

Other services that we offer at Hometown Laser Clinic and Spa that could benefit you are: Laser Hair Removal, Laser Tattoo Removal ,Removal of Broken Capillaries , Electrolysis ,Skin Tags removal, Ruby Points , Manicures & Pedicures, and Body Shaping using our famous Kuma state of the art machine, Cellulite Treatments, Stretch Mark treatments, Rosacea & Brown Spot Treatments, R.M.T Massage Therapist ,Waxing and Piercing! Many quality services available under one roof. Come visit our beautiful and relaxing atmosphere!

All consultations are Free, please contact us and let us recommend the treatment that best suits you.