About: NULL9a20c39d-fb0d-47e7-a756-215bdfc49e8b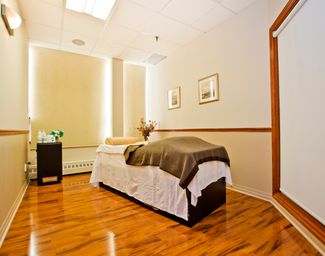 York Mills Spa & Wellness Centre
25 Lesmill Rd, North York, M3B 2T3
We are located at 25 Lesmill Rd., Suite 200 in a clean and convenient neighborhood in North York, which is very close to both highway 401 and the DVP.

We offer a wide variety of professional spa services, products, and clinical treatments. The mission of our spa is to provide customized massages and facials, with different packages available to suit your needs. Why is that important? Massage therapy goes beyond relaxation and stress relief. It has been proven to have many health benefits, such as releasing muscle tightness, increasing circulation and treating physical conditions. When combined with acupuncture, massage therapy helps diminish aches and pains. It should be viewed as much more than a luxury and not only saved for rare occasions.

Looking good means feeling good, and you can't do either with second-rate products or technicians. Our products are of the highest quality and organically based. Different products will be applied during different treatments according to your skin condition and your needs including some medical treatments such as microdermabrasion and chemical peels to ensure skin improvement.

Our aestheticians, Registered Massage Therapists (RMT), and acupuncturists all have years of experience and share my passion for providing our clients with the very best spa experience.

Let us help you look and feel good by booking an appointment at York Mills Wellness & Spa. Our friendly staff, relaxing and welcoming environment, good quality services and affordable prices will definitely keep our customers happy and healthy. We look forward to welcoming you in the near future.