About: NULL8ead17f1-7ba7-42f6-8676-510270d83808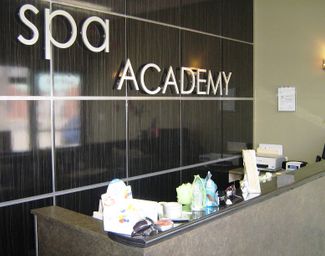 Spa Academy
511 - 33rd Street West, Saskatoon, S7L 0V7
*PLEASE NOTE: WaySpa Gift Certificates & Gift Cards DO NOT have to be used in one appointment. We will credit your client card with any remaining balance and this can be used for future services at your leisure.

Here at Spa Academy we offer a wide range of the most popular esthetics & spa services at highly discounted prices performed by our professionals in training. We also offer traditional spa services performed by our experienced and professional staff.

Professional Services
For those clients that demand the best, we have experienced and professional estheticians that perform services that are not available with our students such as Brazilian waxing, individual eyelash extensions, toenail reconstruction, and more. Our professional estheticians also offer more upscale and therapeutic versions of some of the same services performed by our students.

Student Services
Full-Time students – our professionals in training – complete an eight month 1200-hour program and are gradually introduced to the full array of esthetics services and become proficient in these services by approximately the half-way point of their course. From there, they must complete a certain amount of practical hours to achieve their diploma and work towards becoming Journeyperson Estheticians. This is great news for all of our existing and future clients because it means that they are always looking for more practice to hone their skills. Because our students require so much practice before they graduate and set out on their journey as professional estheticians, we offer spa services at highly discounted prices compared to what one may pay at any other salon or spa in Saskatoon, usually a discount of 45% to 75%.

Of course, there is a catch. As a cunning spa-goer, you realize that these students are still learning and aren't quite yet professionals, but rest assured that all of our students are supervised by Journeyperson estheticians and industry professionals. All services include (at the very least) pre-checks, progress checks, and post-checks and your satisfaction is always guaranteed. In some cases an instructor or supervisor will monitor a portion or all of your service to ensure it is up to our professional standards. It's even possible that you may be chosen as a demonstration client where one of our instructors with decades of experience will perform all or part of your service to show our students exactly what a "professional" service is – at no additional charge of course.

All that we ask is that you keep in mind that Spa Academy is first and foremost an educational institution. Mistakes can occur during the learning process and we hope that our clients remember this. On the rare occasion that your service is less than ideal we will happily rectify the problem to your complete satisfaction and to the best of our ability. We strive for professionalism and perfection here at Spa Academy.