About: NULL653bf5a6-c0af-47a6-b567-d6b116277b73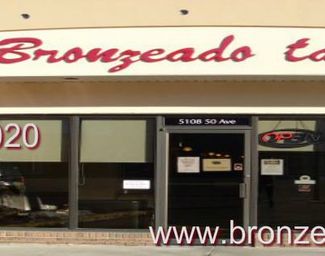 Bronzeado Tan Studio
5108 50 Ave, Leduc, T9E 6V4
The salon was started in 2001 next to Kosmos restaurant. After a few years of being in this location the salon then moved across the road to it's present location 5108 50 Ave. At that point the decision was made to operate as an independent salon and drop the franchise. The name Bronzeado tan was decided on and has remained our proud name for many years! (Bronzeado is a Portuguese word meaning suntan or suntanned)

We offer a full selection of tanning equipment from our Level I lay down beds which host a stereo, a/c vents and built in timers. Our Level II lay down sports a face tanner along with a/c vents and built in timer unit. To top things off To even things out or the ones short on time we have 2 very powerful stand ups unit which also has a stereo, very powerful fans and a built in timer unit.

For the past decade or so we have expanded into Professional teeth whitening. Only 45 minutes and up to 10 shades brighter... Specially formulated patent combined with cutting-edge technology complies with Heath Canada's regulations while providing affordable, fast and efficient solutions for consumers in today's market.

Around the same time we also started offering Whole Body Vibration. Whole body vibration was originally developed by the Russian Space Program and then adopted by NASA. Whole body vibration can provide the benefits of a 1 hour workout in only 10 minutes!

Our friendly staff is waiting to meet you and help in any way we can. Everyone here at Bronzeado tan has been Smart Tan certified and trained with all the newest and safest ways of tanning. Remember the golden rule "Never Burn". We carry a full section of tanning products with close to 100 different lotions to choose from. If we don't have it let us know and we will get it!