About: NULL579a955f-4914-47c7-bb59-2fa411cd3def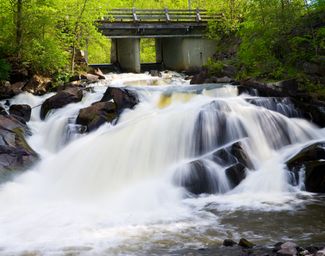 Wakefield Mill Hotel and Spa
60 Mill Road, Wakefield, J0X 3G0
Discover a new sense of vitality, balance, and well-being at our full-service wellness spa. We offer the perfect environment for you to escape the daily stresses of life, take a breath of fresh air and focus on yourself.

Since 2005, Spa Eau Vive at the Wakefield Mill has been setting the standard for wellness retreats in the national capital region and was voted Canada's Most Romantic Spa in 2008 (Glow Magazine) and again in 2013 (SpaInc. Magazine).

Our commitment is to improve your life through the healing powers of nature for it is nature that inspires everything at Spa Eau Vive at the Wakefield Mill. The spa is nestled at the base of a stunning 28 foot waterfall, providing powerful energizing benefits.

We are proud to offer Éminience Organics, a complete skin and body care line from Hungary carried only in the most prestigious spas internationally. With 100% pure organic ingredients, Émininence Organics is part of an overall process of well being offering remineralizing, relaxing and balancing benefits from the earth to bring complete health, beauty and vitality to your spa experience.

Our spa is a haven of relaxation, and only 25 minutes from Ottawa. Allow yourself to be pampered by our highly qualified staff and let us smooth away your tension whilst treating mind, body, and soul to essential nourishment.

Yoga classes, including private and for our corporate guests, are available seven days a week.