About: NULL13ca3cf8-8e1a-4df3-b7c0-8546fb572cd0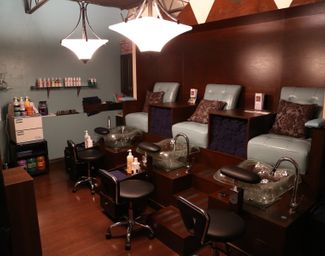 DIVA COUTURE SALON AND SPA-10000
220 Lakeshore Road East, Oakville, L6J 1H8
We are an upscale salon and spa, located in Oakville Ontario. Our relaxing environment offers a pampering experience where you can feel at ease exploring the very latest hair techniques and medical aesthetics while sipping a drink herbal tea or espresso/cappuccino. Every aspect of your visit with us has been designed for your comfort and well being in mind.

We have teamed up with talented, knowledgeable dedicated individuals to deliver quality services in our hair salon and day spa. Our staff stylist range from New Talent, Salon Stylist, Master Stylist to Artistic Directors to fit your need and your budget. All our stylist have the latest cutting techniques that will not disappoint you. Our master stylists and artistic directors are educators in the industry, awarding winning stylists and platform artists! We have stylists dedicated only to their cutting skills, but select staff have developed their colour skills and they will be happy to colour your world. We have colour technicians that can make you the perfect red-head you have always wanted to be, or create the perfect multi-toned blonde highlites that only your stylist will know that you weren't born a blonde.

We are known to be the Makeover Specialist, all our staff have the ability to transform you into the Diva you have always wanted to be!!!

Our MEDICAL SPA staff are trained and certified in their field, our physician and nurse will be happy to assist you in any Botox or Dermal Filler questions. Our clinicians are certified, trained and specialize in medical esthetics and Jet Peel. They also have been educators in products and technology. Therefore, we have the latest technology in laser hair removal and anti-aging treatments that will not disappoint you. Our Senior Medical Clinician will provide a detailed and informative consultation to suggest the best treatment for your desired results. She also will oversee all treatments to ensure your satisfaction or address any concerns or questions you may have at anytime.

Our day spa professionals are trained Estheticians that offer you relaxing treatments in a relaxing atmosphere.

Please call today for a complimentary consultation for your hair salon or spa treatments. Thank you for looking, our goal is to make you the Diva you always wanted to be!!!