About: NULL094d4e38-cb8f-45c7-8e08-4f6cc62aadf8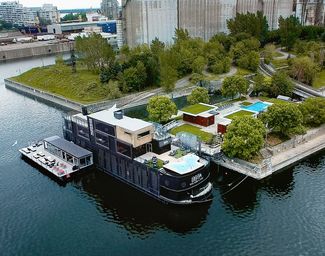 Bota Bota, spa-sur-l'eau
535 rue de la Commune Ouest, Montreal, H3C 5X5
For reservation request, call 514-284-0333 or 1-855-284-0333

Anchored at the Quays of the Old Port of Montreal, Bota Bota, spa-sur-l'eau offers passengers the healing benefits of a spa coupled with the natural lulling movements of the St Lawrence River. Surrounded by enchanting decor, with Old Montreal as a magical backdrop, this mysterious and innovative floating spa offers privileged proximity to the river while enjoying the relaxing and energizing merits of the water circuit.

Bota Bota is comprised of five decks on which you will find the various spa installations: saunas with incredible views, steam rooms, outdoor whirlpool baths, cold showers and baths, relaxation areas, gourmet snack counter, terraces and garden.

Over and above its breathtaking Montreal location, this unique spa offers prolonged well-being to its passengers through massage therapy, body treatments, facial treatments, manicures and pedicures, as well as yoga and meditation.

Bota Bota began its life on the water in the 50's and 60's as a ferryboat between Sorel and Berthier, Quebec, followed by a stint as a Richelieu River show boat. The storied ship was then completely transformed into a spa which opened its doors in 2010 in Old Montreal, settling into a more serene yet glamorous existence.

Step onboard into a universe awash with astounding contrasts. In an invented space, between two water worlds... float away.