About: NULL0934560e-e7e3-451e-a178-af99d7d1bf8f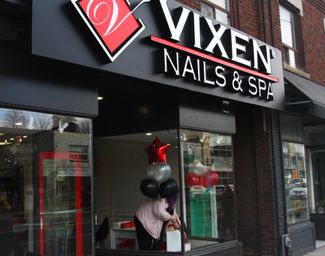 Vixen® Nails & Spa - Danforth
243 Danforth Ave, Toronto, M4K 1N2
Vixen® Spa is the city's award-winning, upscale & trendy beauty destination.
We're not your typical nail salon or spa; we are the brand that inspires confidence by providing premium services while improving lifestyles and raising the bar of the client experience and personal care.
We offer an array of beauty services including Full Hair Salon Services, Manicures, Pedicures, Laser Hair Removal, Waxing, Facials, Tinting & Massages.
While you indulge, choose from our wide selection of Wines, Champagnes, Beers & Mocktails.

Our motto is to Live Well · Be Sexy!