About: NULL09292aff-2e32-496c-95ae-61e84ed7f142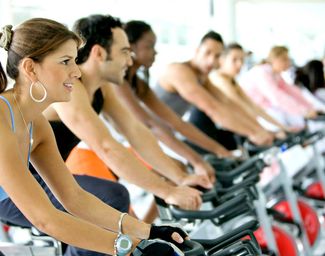 PULSE SPIN STUDIO-10000
80 Tecumseh Ave East, London, N6C 1R9
Pulse Spin Studio is a private Indoor Spin Bike facility in Wortley Village, London. Spinning at Pulse is safe, fun and affordable for beginners to elite athletes with instructional training by Shayne Hodgson, Triathlete and Personal Trainer.

Description
Spinning has grown to be one of the most popular forms of indoor exercise of our time. Through our research, we found that people were having a hard time getting time on a bike at their gyms. People complained that the wait lists were too long and the classes were too large.

Therefore, Pulse Spin Studio was born to service indoor riders in a private facility away from the hectic and populated gyms. Our clean, modern and well ventilated studio features an amazing sound system and 60 inch LED video screen. Our top-of-the-line bikes are perfectly maintained, more comfortable than the rest of the bikes out there and each one has an individual cadence and heart rate computer attached to it.

The studio is equipped with a restroom, shower, energy drinks for sale and complimentary water and towels.

Spinning on a regular basis will build your core strength and leg strength and your cardiovascular fitness. It is a low impact activity ideal for cross training. When you spin with Pulse, you can control your own intensity by modifying the wheel resistance and riding position. Beginners and pros can participate in the same class.

All classes will challenge the rider mentally and physically regardless of their skill level. Pulse riders will burn more calories spinning than in any other form of cardio workout. Join Pulse as they spin their way through each class to energizing music and video. Sessions are captivating, motivational and addictive!

Current classes include Beginners, Cardio and Intense.

You can purchase your session or package online or simply drop-in. As a Pulse Rider, you will receive a key-tag that will hold your membership information. You can get your package online, swipe in when you arrive to class and we'll let you know when you need to reload your membership.

Classes will be busy when we open, until we are able to facilitate more classes. We encourage everyone to keep a eye on the schedule of classes posted online as these may be changing in the first few opening months.

We also would really appreciate your feedback. Make sure to let us know what class times you prefer and how we can make the classes more enjoyable for you attend.

Welcome to Pulse Spin Studio. The Pulse of Wortley Village. Stop in and check your Pulse, watch it soar!